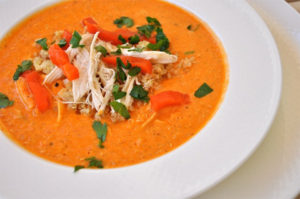 I know it can be difficult to get a healthy, homemade dinner on the table after a long, busy day of work. That's why recipes like this one are so wonderful to have on hand – it only takes a few minutes and tastes fantastic.
By using flavorful ingredients, like roasted red bell peppers and white bean hummus, this soup tastes like you slaved over it all afternoon– but really takes less than 20 minutes to throw together. This recipe is a great way to fit some quinoa into your diet. Quinoa is a protein-packed seed that is considered a "super food". It's s a complete protein, containing all 9 essential amino acids, and is gluten free.
Courtesy of RealHealthyRecipes.com​
What you need
Serves 5
1 cup roasted red bell peppers
3/4 cup white bean hummus
2 cups chicken stock
1/2 cup cooked quinoa
1 cup shredded rotisserie chicken
dash salt and pepper
2 Tablespoons parsley, chopped
Instructions
Take 1/4 cup of the roasted red peppers, slice into strips and set aside.
Place the remaining red peppers in a blender along with the hummus and chicken stock. Blend until smooth.
Transfer to a medium saucepan. Add the quinoa and chicken. Season with salt and pepper.
Bring to a boil.
Ladle the soup into bowls and garnish with the slices of red pepper and chopped parsley.
Nutrition
One serving equals 248 calories, 11g fat, 644mg sodium, 14g carbohydrate, 3g fiber, and 20g protein
Motivate your friends, family and co-workers! Use the "refer a friend" link below to forward this newsletter to your friends, family, and coworkers.
Please let me know if you have any questions!
Your friend & coach,
Brien
Telephone: 650-654-4604
About Brien
P.S. Remember that I'm only a call or email away to assist you in all things health & fitness. If you are not yet one of my prized clients apply as soon as you can to schedule an interview for our new 6 week challenge starting soon!
APPLY HERE>>> NEW 6-Week Transformation​​​​​​​