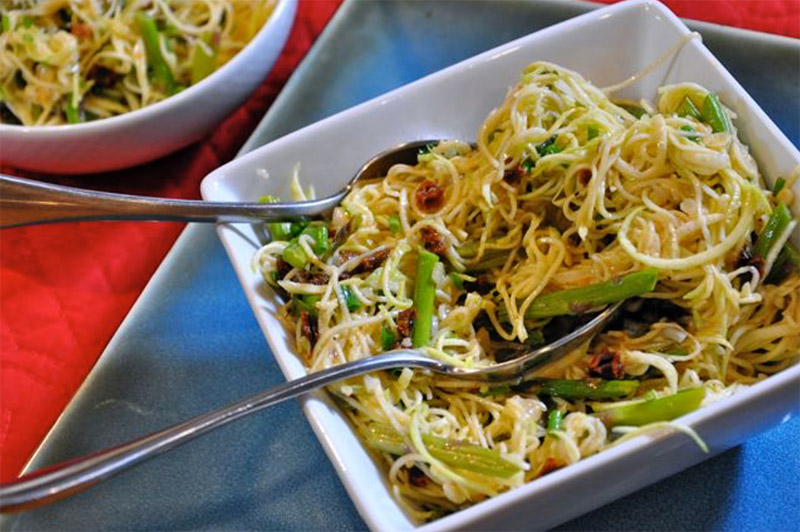 Traditional pasta is a big no-no when it comes to being healthy, fit and toned, so many fitness enthusiasts turn to vegetables for their noodle fix. This is a wonderful recipe to make a big batch of and to use throughout the week for meal prep by adding chopped, grilled chicken breast for protein. There's tons of flavor and fiber to keep you fueled and happy.
You'll need a spiral slicer for this recipe, in order to create long, noodle strands out of zucchini. If you don't already have a spiral slicer, it's a great tool that makes low-carb noodles quickly and easily. The addition of roasted asparagus to this pasta is simply delicious. Enjoy!
Courtesy of RealHealthyRecipes.com​​
What You Need
Serves 4
1 bunch, organic asparagus
1 teaspoon olive oil
dash of sea salt and pepper
5 organic zucchini
2 Tablespoons sun dried tomatoes, chopped
For the dressing
1 garlic clove, chopped
2 Tablespoons yellow onion, chopped
1 Tablespoon Dijon mustard
1 Tablespoon lemon juice
¼ teaspoon sweet paprika
2 Tablespoons olive oil
¼ cup fresh chives, thinly sliced
Instructions
Preheat the oven to 425 degrees.
Trim the ends off the asparagus, and chop into ½ inch pieces. Place in a medium bowl and combine with the olive oil and a dash of salt and pepper. Transfer to a baking sheet and bake for 10 minutes.
Trim the ends from the zucchini and use a veggie peeler to remove the green skin. Cut the zucchini in half, width-wise, then run through a spiral slicer to create long, angel hair noodles. Place the noodles in a large bowl. Add the sun dried tomatoes and roasted asparagus.
In a small bowl combine all of the dressing ingredients. Pour the dressing over the noodle salad and mix well to combined.
Nutrition
One serving equals: 134 calories, 8g fat, 10mg sodium, 10g carbohydrate, 5g fiber, and 5g protein
More of my recommended recipes can be found here>>> Recipes
We are adding more recipes daily.
I hope that you get a chance to give this recipe a try soon. Remember that I'm only a call or email away to assist you in all things health & fitness. And if you are not yet one of my prized clients apply as soon as you can to schedule an interview for our new 6 week challenge starting soon!
APPLY HERE>>> NEW 6-Week Total Body Transformation Challenge​
I'd love to help you achieve your best self!
Please share my educational content with your friends and family and help us influence even more Silicon Valley Residents to reach their full potential >> Subscribe
Your friend & coach,
Brien
Telephone: 650-654-4604
Share this delicious healthy recipe by forwarding it to your friends and family!