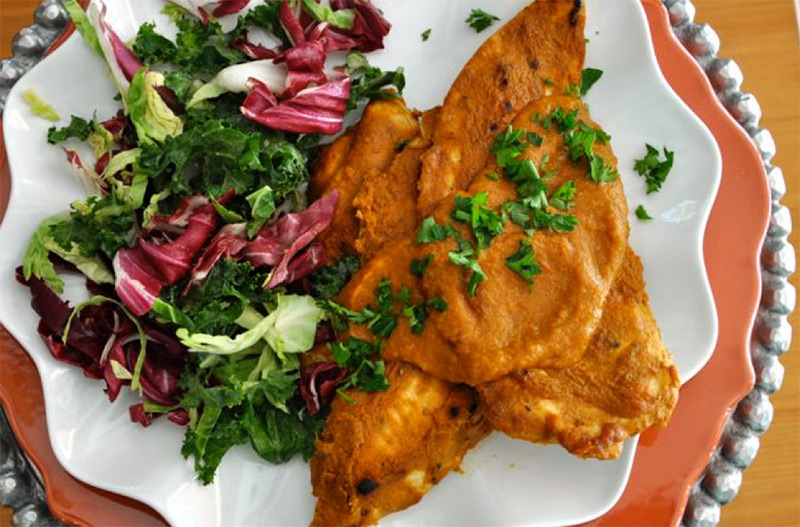 Serve this flavorful Southwestern Chicken Dinner with a heaping side of dark leafy greens. This is the epitome of a meal focused on protein, high quality fat and fiber. It's meals like this that will melt off body fat and improve your health and fitness. Enjoy!
Courtesy of RealHealthyRecipes.com​
What You Need
Serves 6
2 lbs organic chicken breast
Dash of sea salt and black pepper
1 Tablespoon coconut oil
1 small yellow onion, chopped
1 tomato, seeded and diced
2 Tablespoon chili in adobo sauce
1 Tablespoon chili powder
1 Tablespoon balsamic vinegar
1 teaspoon ground cumin
½ teaspoon sea salt
¼ teaspoon ground cinnamon
Instructions
Rinse the chicken breasts and pat dry. Butterfly cut the chicken, opening each breast up like a book. Sprinkle both sides with salt and pepper. Place the chicken in a baking pan and set aside in the fridge as you prepare the sauce.
Place the coconut oil in a skillet over medium heat. Add the chopped onion and sauté until soft, about 5 minutes. Add the remaining ingredients and continue to cook for about 10 minutes. Use a hand blender to puree the sauce until smooth.
Coat the chicken with half of the sauce and marinate for 30 minutes. Preheat the oven to 350 degrees F.
Cover the chicken with foil and bake chicken for 30 minutes in the preheated oven. Serve warm with a spoonful of the reserved sauce. Enjoy!
Nutrition
One serving equals: 304 calories, 17g fat, 336mg sodium, 5g carbohydrate, 1g fiber, and 18g protein.
More of my recommended recipes can be found here>>> Recipes
We are adding more recipes daily.
I hope that you get a chance to give this recipe a try soon. Remember that I'm only a call or email away to assist you in all things health & fitness. And if you are not yet one of my prized clients apply as soon as you can to schedule an interview for our new 6 week challenge starting soon!
APPLY HERE>>> NEW 6-Week Total Body Transformation Challenge​
I'd love to help you achieve your best self!
Please share my educational content with your friends and family and help us influence even more Silicon Valley Residents to reach their full potential >> Subscribe
Your friend & coach,
Brien
Telephone: 650-654-4604
Share this delicious healthy recipe by forwarding it to your friends and family! Click Here to share it on Facebook