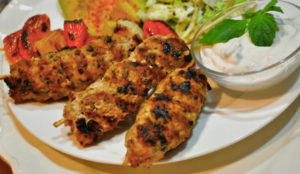 Here's a great recipe for a busy weeknight dinner. Ground turkey breast is mixed Mediterranean spices to create flavorful, protein-packed kebabs. Serve with salad and vegetables and a side of Organic plain Greek yogurt if you tolerate dairy.
Courtesy of RealHealthyRecipes.com​
What you need
Serves 4
1 1/2 pounds turkey breast, de-boned, trimmed of skin and cut into thin strips
2 garlic cloves, minced
1 teaspoon olive oil
2 eggs
1/4 cup almond meal (more if needed) *Use coconut flour if avoiding almonds
1 teaspoon cumin
1 teaspoon sweet paprika
1/2 teaspoon cinnamon
dash of salt (optional)
2 Tablespoons fresh parsley, finely chopped
1 Tablespoon fresh mint, finely chopped
Instructions
In a food processor, blend the turkey strips until ground. Add the remaining ingredients and pulse until well blended. Pre-heat your grill or grill pan.
Lightly grease your hands, then press the meat into the wooden skewers until it covers about 3-4 inches in an elongated meatball shape. If the meat is not sticking then add some more almond meal.
Grill for about 8 minutes per side.
Nutritional Analysis
One serving equals: 254 calories, 8g fat, 156mg sodium, 2g carbohydrate, 1g fiber, and 47g protein
Motivate your friends, family and co-workers! Use the "refer a friend" link below to forward this newsletter to your friends, family, and coworkers.
Please let me know if you have any questions!
Your friend and coach,
Brien Shamp
650-654-4604
​info@brienshamp.com​