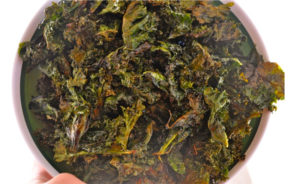 Salty, crunchy snack foods are a weakness for most people. Instead of eating chips or popcorn or crackers, which quickly add up in unwanted pounds, make a batch of these delicious, crunchy kale chips. Kale chips are low in carbs and make a delicious crunchy snack.
What you need
Serves 5
1 bunch kale, washed and torn, stems discarded
1 Tablespoon olive oil
dash of salt and pepper
Instructions
Preheat oven to 300 degrees F.
In a large bowl mix the kale pieces with all of the ingredients.
Spread evenly on foil-lined baking sheets.
Bake for 12 minutes, watching closely that they do not burn. Remove from oven when crispy.
Nutrition
One serving equals 51 calories, 3g fat, 68mg sodium, 5g carbohydrate, 1g fiber, 2g protein
Motivate your friends, family and co-workers! Use the "refer a friend" link below to forward this newsletter to your friends, family, and coworkers.
Please let me know if you have any questions!
Your friend and coach,
Brien Shamp
650-654-4604
​info@brienshamp.com​