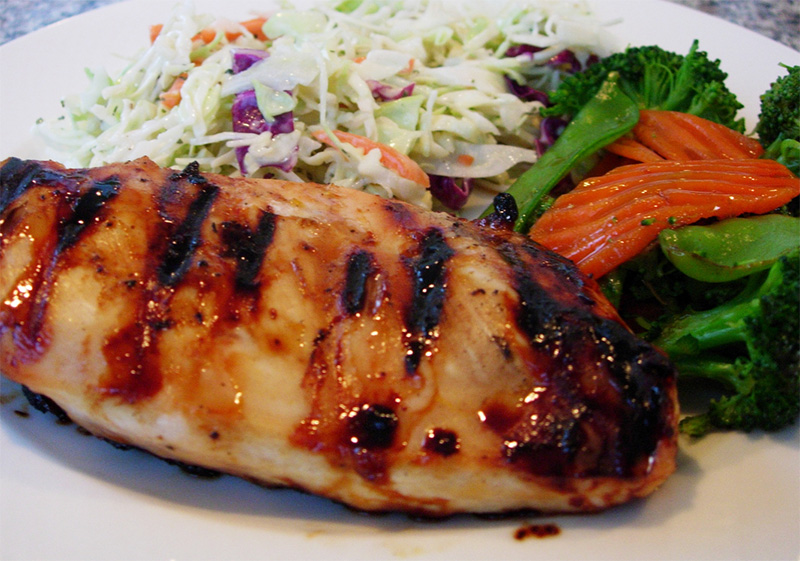 Today I'm sharing a healthy recipe with you that will please your taste buds while taking you one step closer to achieving your fitness goals. The honey-mustard glaze has a wonderful tangy flavor. Remember to add healthy side dishes for a complete fitness meal that will satisfy without weighing you down.
All of that hard work that you put into your workouts can quickly and easily be lost on unhealthy eating – which is why it's so important to enjoy light, protein-filled meals like this one.
What You Need
Serves 6
4 Tablespoons honey
4 Tablespoons spicy mustard
1 teaspoon grated lemon peel
2 teaspoons low-sodium gluten-free soy sauce (try a non-soy alternative- coconut aminos to make this 6 week challenge approved)
½ teaspoon minced garlic
6 boneless, skinless chicken breasts
Instructions
Pre-heat your grill. If using coals, heat until the coals turn gray and there are no longer strong flames, 35-45 minutes.
Combine honey, mustard, lemon peel, soy sauce and garlic. Mix well. Reserve a few tablespoons of the sauce. Add chicken and marinate in the refrigerator for 40 minutes.
Cook the chicken 5 to 6 minutes per side. Brush with the reserved sauce, and continue cooking for an additional 3 to 4 minutes per side, until chicken registers 170 degrees F on a meat thermometer. Serve with a side of veggies. Enjoy!
Nutrition
One serving equals: 183 calories, 2g fat, 13g carbohydrate, 0g fiber, and 28g protein.
More of my recommended recipes can be found here>>> Recipes
We are adding more recipes daily.
I hope that you get a chance to give this recipe a try soon. Remember that I'm only a call or email away to assist you in all things health & fitness. And if you are not yet one of my prized clients apply as soon as you can to schedule an interview for our new 6 week challenge starting soon!
APPLY HERE>>> NEW 6-Week Holiday Transform Challenge
I'd love to help you achieve your best self!
Please share my educational content with your friends and family and help us influence even more Silicon Valley Residents to reach their full potential >> Subscribe
Your friend & coach,
Brien
Telephone: 650-654-4604
Share this delicious healthy recipe by forwarding it to your friends and family! Click Here to share it on Facebook