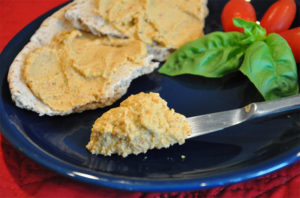 While the red and green speckles give this homemade hummus a jolly look, it's the taste that makes it unforgettable. This dip makes the perfect party take-along. Serve it up with whole grain pita bread or fresh cut veggie sticks.
What you need
Serves 12
1 (15 oz) can garbanzo beans
1 Tablespoons tahini
1 Tablespoon olive oil
1 Tablespoon lemon juice
1 Tablespoon water
2 garlic cloves, mashed
1/4 teaspoon salt
2 teaspoons soy sauce (choose gluten free or try coconut aminos)
4 sun-dried tomatoes
1/4 cup basil leaves
Instructions
Throw all the ingredients into a food processor and combine until smooth.
Nutrition
One serving equals 75 calories, 2g fat, 11g carbohydrate, 3g fiber, and 3g protein.
Motivate your friends, family and co-workers! Use the "refer a friend" link below to forward this newsletter to your friends, family, and coworkers.
Please let me know if you have any questions!
Your friend and coach,
Brien Shamp
650-654-4604
​info@brienshamp-com.wp3.staging-site.io​