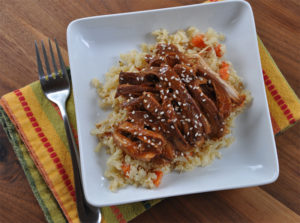 Slow cooker meals are a fantastic method for enjoying lean, homemade dinners without the hassle and time commitment that many recipes entail. By simply throwing the ingredients below into your slow cooker in the morning before you leave for work, you'll have a hot, delicious meal ready for you when you return home!
The combination of soy sauce, ketchup, garlic and dried basil lend phenomenal flavor to tender chicken thigh in this too-easy-to-believe chicken dinner recipe. Serve with a salad made with dark greens and over a bed of cauliflower rice. Enjoy!
What you need
Serves 8
3 lbs boneless, skinless chicken thighs
pink himalayan salt
black pepper
½ cup low sodium, gluten free soy sauce (try coconut aminos)
½ cup organic ketchup
¼ cup raw honey
1 Tablespoon garlic, minced
1 teaspoon dried basil
*optional sesame seeds for garnish
Instructions
Generously salt and pepper the chicken thighs. Place in the bottom of a slow cooker.
Combine the soy sauce, ketchup, honey, garlic and dried basil. Pour over the chicken. Cover and cook on low for 6 hours. Garnish with sesame seeds. Enjoy!
Nutrition
One serving equals 371 calories, 12g fat, 314mg sodium, 11g carbohydrate, 3g fiber, and 50g protein
Motivate your friends, family and co-workers! Use the "refer a friend" link below to forward this newsletter to your friends, family, and coworkers.
Please let me know if you have any questions!
Your friend and coach,
Brien Shamp
650-654-4604
​info@brienshamp.com​