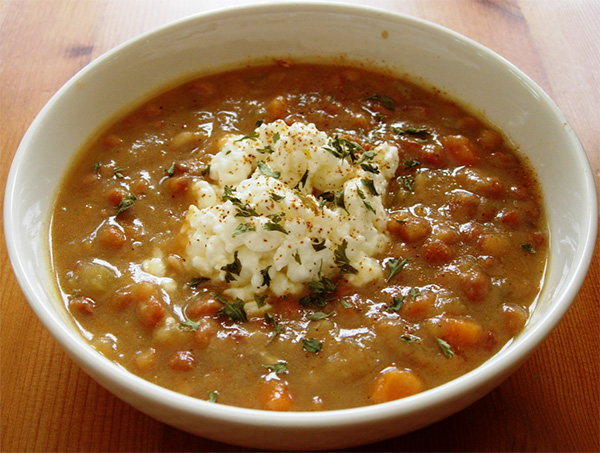 Happy Friday!
There's nothing like a bowl of homemade soup for instant comfort. Use this Easy Lentil Soup recipe for a light dinner or quick lunch. It's easy to make, tastes delicious and is low in fat. What's more it's full of natural protein. And guess what? Lentils are packed with cholesterol-lowering fiber.
What You Need
Serves 8
1 tablespoon olive oil
1 cup finely chopped onion
½ cup finely chopped carrot
½ cup finely chopped celery
2 teaspoons salt
1 pound lentils, picked and rinsed
1 cup peeled and chopped tomatoes
2 quarts chicken broth, fat free, reduced sodium
½ teaspoon ground coriander
½ teaspoon ground toasted cumin
Optional, dried parsley
Instructions
Put the olive oil in a 6-quart Dutch oven and place over medium heat. Add the onion, carrot, celery and salt. Sauté for 6 to 7 minutes.
Add the lentils, tomatoes, broth, coriander and cumin; stir to combine. Increase the heat to high and bring the mixture just to a boil. Reduce the heat to low, cover and cook at a low simmer until the lentils are tender, about 40 minutes.
Using a stick blender, puree the soup to your desired consistency. Sprinkle with dried parsley if desired.
Nutrition
One serving equals: 240 calories, 2g fat, 35g carbohydrate, 18g fiber, and 16g protein.
More of my recommended recipes can be found here>>> Recipes
We are adding more recipes daily.
I hope that you get a chance to give this recipe a try soon. Remember that I'm only a call or email away to assist you in all things health & fitness. And if you are not yet one of my prized clients apply as soon as you can to schedule an interview for our new 6 week challenge starting soon!
APPLY HERE>>> NEW 6-Week Holiday Transform Challenge
I'd love to help you achieve your best self!
Please share my educational content with your friends and family and help us influence even more Silicon Valley Residents to reach their full potential >> Subscribe
Your friend & coach,
Brien
Telephone: 650-654-4604
Share this delicious healthy recipe by forwarding it to your friends and family! Click Here to share it on Facebook