Last weekend, I had great mastermind meetings with some of the top Fit Body Boot Camp owners in the world. One of the things my the to do list every weekend is food prep for the week. Those weekends when my wife and I meal prep for the week are generally good. The weekends when we don't prepare for the week are not so good 🙁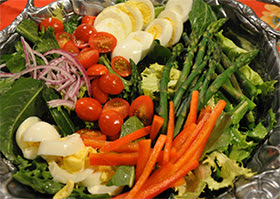 Check out Fat Loss Tip #37: Eat out less and prepare to eat in more often
On Thursday September 22, 2016, Dr. Heidi Dulay joined me for a Coaching Call on weekend meal preparation. You can listen to the call here: Food Prep for the Week on the Weekends
This call will really help those of us who have families. In the call we discuss burgers, hotdogs, taters, mac & cheese, steak, Mexican food salads, mayo, sour cream, ketchup, mustard, eggs, cheese avocado and bone broth, quality of food and time efficiency in the kitchen.
Planning meals is much easier to do in bulk, than it is to create meals on a daily basis. This is certainly true if you live an energetic, busy lifestyle, or even to assist in nutritional, or fitness goals.
I am very excited to share this coaching call with you. Meal prep can be simple if you have the right knowledge, and tools.
If you are interested in one of my coaching programs check out the 21 Day Rapid Fat Loss Program starting on Monday!
WE ARE DONATING 100% OF THE PROCEEDS FROM THIS PROGRM TO "IN OUR LIFETIME" (www.inourlifetime.org) TO SUPPORT PEOPLE WITH BREAST CANCER.
Your friend & coach,
Brien
Try out our Fit Body Boot Camp Afterburn Workout totally FREE with unlimited sessions for 7 days: 1 Week Boot Camp Trial Info
Fit Body Boot Camp is the only 30 minute group personal training program that's fun, affordable, gives you fat loss results and challenges your body every time. Best of all, we guarantee you'll be happy with the results or you get your money back.
The boot camp sessions are approximately 45-50 minutes long. Each session includes a 10-15 minute warm up phase with mobility and core movements to prepare you for the 30 minute metabolic workout, and then it ends with a 5 minute cool down phase.
Telephone: 650-654-4604
About Brien
Join Brien on Facebook
Write a Google+ Review
Write a Yelp Review: Belmont Boot Camp, Burlingame Boot Camp, San Carlos Boot Camp, Shamp's Studio Boot Camp
Disclaimer