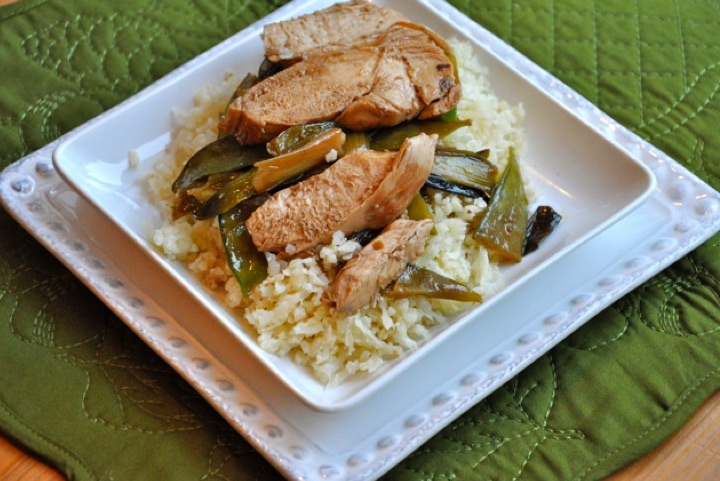 No need for your usual take-out order tonight, instead try this quick and healthy recipe. Cooking at home automatically reduces unhealthy ingredients and makes losing fat and getting fit easier than it would be while eating take-out.
This recipe meets all the requirements for a healthy dinner. By baking the chicken and using cauliflower for rice, this recipe reduces the carbs and improves the quality of the meal compared to a traditional stir-fried chicken meal.
Courtesy of RealHealthyRecipes.com​
What You Need
Serves 6
1 head cauliflower
¼ cup coconut aminos
¼ cup mirin (sweet rice wine)
1 Tablespoon coconut nectar
1 Tablespoon apple cider vinegar
2 Tablespoons organic chicken broth
3 teaspoons sesame oil, divided
1 pound skinless, boneless chicken breasts
8 ounces snow peas, halved lengthwise diagonally
1 bunch green onions, cut into 1-inch pieces
Instructions
Wash cauliflower, discard the leaves, and chop into small pieces. Grate the pieces with a food processor. In a large skillet heat the coconut oil over medium. Add the shredded cauliflower. Sauté for about 5 minutes, until tender. Season with salt and pepper. Serve as you would traditional rice.
Combine coconut aminos, mirin, coconut nectar, apple cider vinegar and chicken broth in a small saucepan; bring to a boil. Reduce heat; simmer 3 minutes. Remove from heat.
Heat a large nonstick skillet or wok over medium-high heat. Add 2 teaspoons toasted sesame oil to pan; swirl to coat. Add chicken breasts to pan; cook 3 minutes on each side or until browned. Transfer to a cutting board; cool slightly. Cut into 1-inch slices.
Return pan to medium-high heat; add remaining 1teaspoon toasted sesame oil to pan. Add snow peas and onions; sauté 2 minutes. Add coconut amino mixture and chicken to pan; cook 2 minutes or until liquid is syrupy and chicken is thoroughly heated, stirring frequently. Place 1 cup rice in each of 4 shallow bowls; top each serving with 1 cup chicken mixture.
Nutrition
One serving equals: 256 calories, 6g fat, 621mg sodium, 25g carbohydrate, 6g fiber, and 28g protein.
More of my recommended recipes can be found here>>> Recipes
We are adding more recipes daily.
I hope that you get a chance to give this recipe a try soon. Remember that I'm only a call or email away to assist you in all things health & fitness. And if you are not yet one of my prized clients apply as soon as you can to schedule an interview for our new 6 week challenge starting soon!
APPLY HERE>>> NEW 6-Week Total Body Transformation Challenge
I'd love to help you achieve your best self!
Please share my educational content with your friends and family and help us influence even more Silicon Valley Residents to reach their full potential >> Subscribe
Your friend & coach,
Brien
Telephone: 650-654-4604
Share this delicious healthy recipe by forwarding it to your friends and family! Click Here to share it on Facebook